Where to buy – Spanish Pueblo or Expat Community?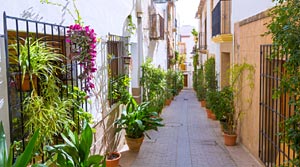 This is an important issue which should be carefully considered before purchase – if you make the wrong decision it can be costly, bearing in mind reselling and re-purchasing costs. Any profits made on a quick sale will be handed straight over to the tax man! Many people have a vision of living in the 'real Spain' amongst the Spanish and away from tourist resorts. Although there are those who have done it, and wouldn't live any other way – is it for you? There is great community spirit in small Spanish Pueblos (villages) – but you will need to live the Spanish way, and speak the language. You are unlikely to be accepted if you insist on going into the bar and asking for 'a large beer please mate', but even if your Spanish is poor, you will gain brownie points with the locals for trying!
The advantage of buying on an urbanization where there are other expats, is that you will be mixing with other people in the same situation as yourself, with facilities on hand, and general maintenance of the property and gardens undertaken by the community (although you will be required to pay a yearly fee for this). However, if the community do not agree on matters, problems can arise and it is wise to check the community rules before purchase.
Where to buy Property in Spain
For Living Permanently in Spain
Many people tempted by a better quality of life, are looking to escape unpredictable situations and climates in favour of searching for 'the good life in Spain'. People leave their home country for many reasons, be it to take advantage of the affordable market in Spain, a new job, to study, to work, or maybe to be with other family members who are already living permanently in Spain. Whatever your reasons for moving to Spain, the way of life is totally different and for some, it comes as a real culture shock. You have to learn new currencies and languages, and you miss your friends, family and all that is familiar. Many will go through a transition period, which may last up to two years, before they can truly decide whether they can 'fit in', or should give up and go home. For these reasons, buying property for living permanent in Spain is a double edged sword. Not only is it imperative to choose the right location, but you also need to be sure that making the move is right for you.
It is also wise to calculate and re-calculate your finances before jumping in with both feet.  If you are planning on working in Spain, don't just bank on the chance that you will find a job because you probably won't.  It's difficult, sometimes impossible depending on the area you move to, to find work – especially if you don't speak Spanish.
You can find facts, legalities and relocation information almost anywhere – but nothing that can really give you a true insight on living in Spain permanently. If you want to know more about moving to Spain and living in Spain permanently, including the pitfalls involved in making the move and how to prevent falling into them – speak to people who have done it already.
Guide to Buying a Rural Home
Inland, country or 'rural property' is where you will find what is often called the 'Real Spain' – where property prices remain low compared to coastal areas.
Rural sales in Spain have become increasingly popular with buyers from overseas over the past 10 years because even now there are still many bargains to be had.
The property may need to be reformed, which can mean anything from minor repairs to a major renovation. The local villages in inland areas will be very Spanish so a knowledge of the language may be necessary. Being very friendly, the Spanish villagers will accept foreigners who try to fit in with their lifestyle. All these factors should be considered before buying country property and should be explained to you by the selling agent.
The great appeal of rural, or inland property for sale in Spain is the peace, tranquility, and the scenic views and countryside. Many of these areas are still within 30-40 minutes from the nearest coast, and many properties for sale can still be bought with large plots of land  for less than £100,000.
We are an Anglo Spanish company who can advise you on all aspects of the Spanish property purchase procedures including: Solicitors, Notary, Mortgages, Bank accounts, Property Management, Holiday rental management and buy to let advice. Our trained staff in Spain have helped many people through the purchasing process. We can guarantee our clients a professional service before, during and after the purchase of any of our Spanish properties.
If you require more in-depth advice on buying a property in Spain, please do not hesitate to contact us
Category : Property News