Postive Trend in Costa Blanca Property Sales for 2014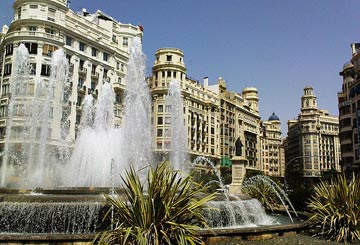 Property sales on the Costa Blanca are once again on the rise.  Foreign citizens bought in the Valencia region last year 16,619 homes, representing an increase of 17% over 2012, and the value of those transactions  reached € 1,731 million, 11% more than the previous year
Sources in the Ministry of Infrastructure, Planning and Environment reported that, as usual, the largest number of these transactions occurred in the province of Alicante, with 13,786 households, and have stressed that highlights the used market against new housing construction.
This data confirms a "positive trend" and shows that one-third of homes sold to foreigners in Spain is in the Valencian Province, whose contribution has increased since 2008, mainly due to the weight of acquisitions by foreign residents and especially non-residents.
Buying by foreign residents represented in the first quarter of 2008 rose 25.4% and in the last three months of 2013 to 31.4%, while in the first months of 2008 acquisitions of non-resident was a 14 , 3% in the fourth quarter of last year reached 36.6%.
According to the report of the last quarter of 2013 from the Commission to promote the sale of houses to foreigners, promoted by the Consell, Valencia Spain continues to lead this type of real estate transactions.
During the last quarter of 2013, 33.6% of all homes sold to foreigners in Spain is concentrated in the Costa Blanca Region, while Andalusia reached 19.9%​​, 15.5% Catalonia, Canary 11.3 Balearic% and 6.5%.
The total value of transactions, estimated at 1.731 million increased for the fourth consecutive year and is concentrated in the province of Alicante at the cente of the Costa Blanca, which accounts for 87% of the total value of property sales made.
The largest nationality relevance is Russia, which has tripled the number of transactions since 2009, and stands first, followed by the UK, which holds its interest in the property of the Region but especially notes the arrival of buyers from Algeria.
In 2008 most of the purchases were made by ​​citizens of the United Kingdom (40%), while in 2013, this percentage drops to 13%; increase transactions by Russian citizens (13%) of Nordic countries (Norway, Sweden and Finland with 19%), Algerians (9%) and Belgium (8%).
Residential tourism is elected by citizens of the United Kingdom, Germany, Netherlands, France, Norway, Sweden, Finland, Belgium and Russia homebuyers out of their places of habitual residence for holidays or reside permanently or semi-permanently, while Chinese, Moroccans and Romanians were most likely change residence for work purposes.
The Department plans to hold next month in Madrid a meeting with businessmen, property agents and estate agencies amongst others, to introduce initiatives that develop alongside economic agents to reactivate the productive activity and employment increased acquisition, leasing and use of housing for foreigners.
With this business meeting, with the collaboration and support of the Conexus Foundation and the Ministry of Development, is to exploit the synergies that can be created with the Madrid entrepreneurs to open new markets and consolidate existing ones.
Category : Property News